Marketing Chinoiserie at the 1867 Universal Exhibition in Paris
By Noelle Y. Barr
L'Exposition universelle de 1867 illustrée; Author: Exposition universelle de 1867 à Paris; François Ducuing (1817-1875); Paris: AdministrationL 106, Rue Richelieu, 1868; Language: French, 2c.: ill. (incl. ports.); 37 cm.; NYU Inst Fine Arts SpecCol Offsite T801.B1 A3 Oversize Non-circulating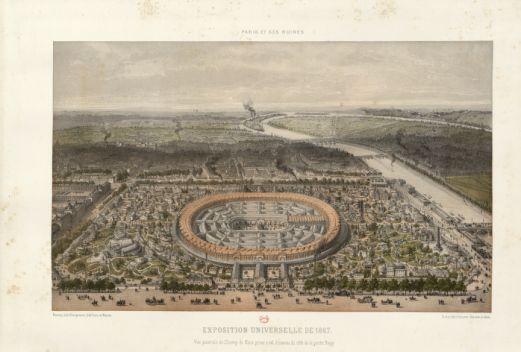 Fig. 1. Jean-Victor Adam (1801-1867), The Universal Exhibition of 1867, 1867 (detail). Color lithograph., 24.4 x 37.9 cm. Bibliothèque nationale de France, Paris. Image source: Gallica.
The Universal Exhibitions in Paris sought to showcase French industrial and artistic innovations by inviting, and inevitably comparing, international participants and their contributions. The city's first hosting of such an event took place in 1855, attracting roughly five million visitors. By 1867, the number of people in attendance had tripled. During the Second Empire (1852-70), under the authority of Napoleon III, France hosted over 40 countries at the Champs de Mars. Located in the center of this large park was a concentric elliptical structure made of iron and glass engineered by Frédéric Le Play (Fig. 1). On the outskirts of this central building, which internally housed vendors of fine art, musical instruments, textiles, food and drink, furniture, feats of mechanical engineering, materials of horticulture, and other commodities, was the so-called "Avenue d'Orient." It was intended to represent the countries of Egypt, Morocco, Tunisia, Turkey, Siam (present-day Thailand), Japan, and China and featured miniature reconstructions of a Tunisian palace and the Suez Canal, an Egyptian Temple, a Turkish Mosque, pavilions, a theater, and stables for exotic animals such as elephants from Siam.
Despite the fantasmic presence of China in the "Avenue d'Orient," the Chinese government was officially absent from the 1867 Universal Exhibition, owing to the Second Opium War (1856-60) and ongoing hostilities between China and France. [1] Insisting on representing the significance of Oriental trade and commodities within the historical context of European interest in chinoiserie, French government officers, businessmen, and scholars fabricated their own Chinese pavilion. This included the staging of Chinese merchants selling tea called the Débit de Thé (Distributing Tea), which, unlike other elements of the pavilion, sought to amuse and immerse spectators in the Far East, rather than assert the power of France following the sacking of the Summer Palace through the means of material display. (Fig. 2). In his two-volume illustrated catalog for the exhibition, the French journalist and politician François Ducuing offered a rather sterile and demeaning description of this spectacle, dismissing its cultural importance within Chinese traditional tea ceremonies. Chinese gardeners were also featured in the exhibition, as well as two Chinese girls who were brought by Baron de Meritens. These ladies were stationed in a tea kiosk and observed painting fans, playing dominos, and conducting other "traditional" activities, which ostensibly would have involved the making or offering of tea. Ducuing notes that while the Chinese may have traveled very far to take part in this pavilion's staging, compared to the other foreign exhibitors they somehow assimilated most closely to the French program, inadvertently exposing the artificiality of their performance given that China had declined France's invitation to participate. Such a speculation is further evidenced by guest reports criticizing the commercial enterprise and European theatrics of the Chinese exhibition.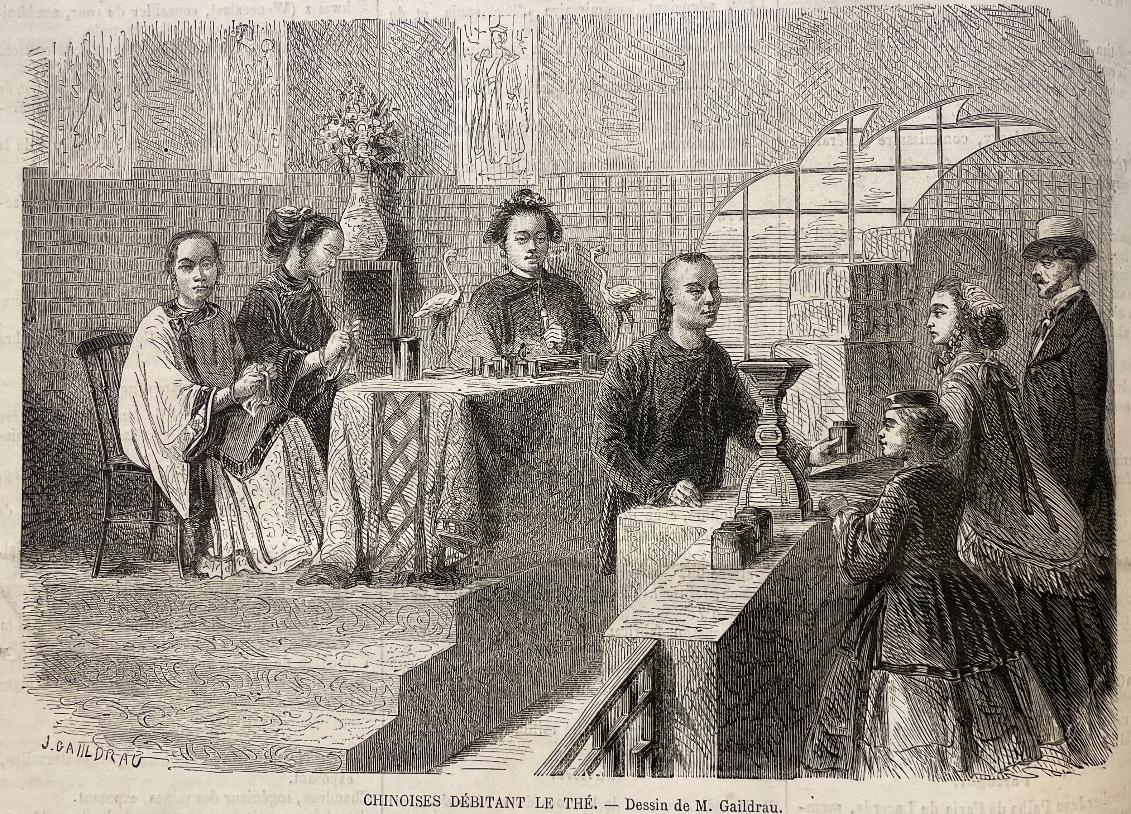 Jules Gaildrau (1816-1898), Chinoises Débitant le Thé, from François Ducuing, L'Exposition universelle de 1867 à Paris, 2 vol. (Paris: Administration: 106, Rue Richelieu, 1868), 2: 304. Wood engraving on paper. H: 37 cm (book); 22 x 14 cm. (image).
The Ducuing catalog was issued by the same imperial commission that organized and staged the Paris exhibition. It condensed statistical records, images, and written statements concerning prizes, the jury, visitors, and specific exhibits like the Débit de Thé. Jules Gaildrau was a French painter, draftsman, and illustrator. He is best known for engravings of miners from the California Gold Rush that were published in Voyages en Californie in 1854, one year before Paris's first Universal Exhibition. This wood engraving, entitled Chinoises Débitant Le Thé (Chinese Distributing Tea), captures four Chinese individuals placed behind a barrier as a European family observes their production and selling of tea. The man closest to the spectators wears a queue hairstyle, with his hair grown out and shaved at the front, and stands against the stanchion holding out a container of tea leaves. The three other Chinese figures, presumably women of diverse backgrounds judging from their various hairstyles, sit at a table on an elevated platform, polishing wares and assisting in the preparation of tea. They embody the Exposition Universelle's attempt to provide its guests with living "specimens" of foreign vendors, evocative of the French tradition of staging tableaux vivants or "living images."
The Universal Exhibition of 1867 aimed to provide its guests with what Ducuing described as "un spécimen en action de toute les populations du globe," or "a specimen in action of all of the global populations." However, keeping in mind the long history of chinoiserie, as well as more recent political and military conflicts surrounding tea and other Chinese goods, it is important to recognize the context under which these images and exhibits functioned; catalyzed by a desire to provide visitors with a diverting spectacle of pleasure and luxury associated with the Far East.
Meredith Martin, "Staging China, Japan, and Siam at the Paris Universal Exhibition of 1867," in Beyond Chinoiserie: Artistic Exchange Between China and the West during the Late Qing Dynasty (1796-1911), ed. Petra ten-Doesschate Chu and Jennifer Milam (Leiden and Boston: Brill, 2019), 125. ↑