Proximity and Distance in an Image of a Funeraille Chinois in Batavia
By Emma Hartman
Travels into Muscovy, Persia, and part of the East-Indies: containing, an accurate description of whatever is most remarkable in those countries ... to which is added, an account of the journey of Mr. Isbrants, ambassador from Muscovy, through Russia and Tartary, to China, together with remarks on the travels of Sir John Chardin, and Mr. Kempfer, and a letter written to the author on that subject; Author: Cornelis de Bruyn (1652-1726-7); Etcher: Bernard Picart (1673-1733); London: Printed for A. Bettesworth and C. Hitch, S. Birt, C. Davis, J. Clarke, S. Harding, D. Browne, A. Millar, J. Shuckburgh, and T. Osborne 1737; 2 volumes, 36 cm.; NYU Fales SpecCol DS.B93 Oversize

This two-volume travel account collects the experiences and impressions of the artist Cornelis de Bruyn as he travelled through present-day Russia as well as Central and Southeast Asia. Originally published in Dutch in 1711, it was translated into French in 1718 before the present English translation was published in 1737. The set is illustrated throughout with 320 unique etchings by the artist Bernard Picart. Picart is widely known for his illustrations in the pioneering nine-volume text Cérémonies et coutumes religieuses de tous les peuples du monde, published in parts between 1723 and 1743. His prints in this travel account, which were done after original drawings by de Bruyn, illustrate a wide range of subject matter commensurate with the broad scope of the project and include studies of people, flora, fauna, cities, and antiquities.
De Bruyn is careful to emphasize the proximity of these images to their source material, implying their high level of accuracy. He states in the preface: "I can affirm…that I have drawn with my own Hand, and immediately from the Life, all the plates now presented to the Public." This assertion is consistent with a broader established tradition in early modern Europe of designating certain printed images as "from life," or ad vivum, to legitimize their status as documents rather than artistic representations.
Though the two volumes do not include any direct representations of China, de Bruyn does describe several encounters with Chinese people and customs during his stay in Batavia, the Dutch East India Company capital from 1619 to 1799 (present-day Jakarta, Indonesia). Batavia had a sizable Chinese community at this time, and de Bruyn had the opportunity to observe what he terms a "Chinese funeral" while in residence there. Plate 222, entitled Funerailles des Chinois, illustrates this encounter.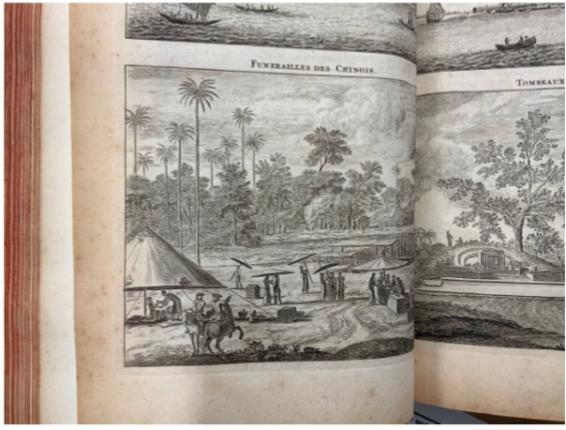 Fig. 1. Bernard Picart (after Cornelis de Bruyn), Funerailles des Chinois, plate 222 from Travels into Muscovy, Persia, and part of the East-Indies, 1737. Etching, 12 x 16 centimeters. Photo by author.
While this image purports to represent a funeral, it is entirely unclear where precisely the events of the funeral are taking place, and there is no clear indication of the location of the deceased or of a coffin, despite the fact that de Bruyn discusses Chinese coffins and tombs at length in the accompanying text. Instead, the print depicts several groupings of shadowed, nondescript figures under separate tents and parasols with no obvious focal point. Without the assistance of de Bruyn's accompanying text, this illustration and the activities of the various groups Picart depicts would be virtually unintelligible. Divorced from de Bruyn's narrative, they lose much of their meaning for an English audience. Two figures in the lower left, represented on horseback in what appears to be European costume, allude to de Bruyn's vital role as mediator. These figures gesture to the scene before them, observers but not participants. It is as if Picart has inserted de Bruyn himself into this image, reminding readers that their encounter with this Chinese funeral will always be mediated by de Bruyn and his original narrative text.